Guaranteed Head Lice Removal: $229
No Hidden Fees
For this price, our lice removal services in Minnesota include:
Certified, professional, experienced, knowledgeable technicians.
Head checks for your entire family.
Cleaning and prevention education.
24/7 on call head lice expert.
Thorough comb out of all debris.
No home combing required! No nits left behind!
Free follow-up appointment (must be done 7-10 days after treatment to receive guarantee).
30 day guarantee.
Same cost regardless of hair length, thickness or severity of infestation.
No hidden charges!
Reimbursed by Flexible Spend and Health Savings Accounts.
Guaranteed same day appointment.
By appointment only in order to assure confidentiality.
Nit combs never get used twice. Take the comb home with you.
Medical Approach
Ladibugs, Inc. takes a medical approach to lice treatment. Our AirAllé is an FDA cleared medical device that has been studied and published in the Journal of Pediatrics.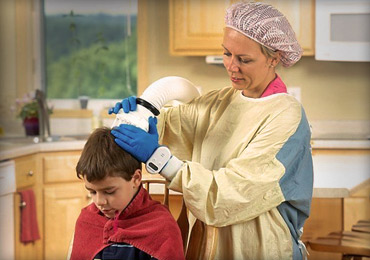 Call 612.804.8888 or 855.804.8889 to get rid of lice today!
Pesticide-Free Lice Treatment and Prevention