Top Rated Head Lice Treatment Clinic
One 30 Minute Treatment – Guaranteed!
Head-check screenings
Kills lice and eggs/nits
We treat children and adults
As soon as same day appointments
No sitting for hours with strand by strand picking
HSA & FSA payment eligible on most accounts
Our success rate is 100% using the
new ZYMA AIR THERAPY™ process.
Get rid of lice today. Ladibugs professional technicians are available at our convenient Hopkins Clinic location.
Book An Appointment Call Now 612.804.8888
Compare Ladibugs Head Lice Clinic to All Other Clinics
| | | Nit Picking / Combing Clinics |
| --- | --- | --- |
| Time | 30 minutes! (per head) | 2 - 4 hours (per head) |
| Outcome | Process is 100% guaranteed | If one egg is missed, lice infestation will continue |
| Method | Device combined with natural product | Strand by strand picking thru hair |
| Cost | One set price - no additional fees | Hourly rate plus additional fees |
Over 60,000 patients seen and successfully treated in 10 years of operation.
Visit our Hopkins, MN location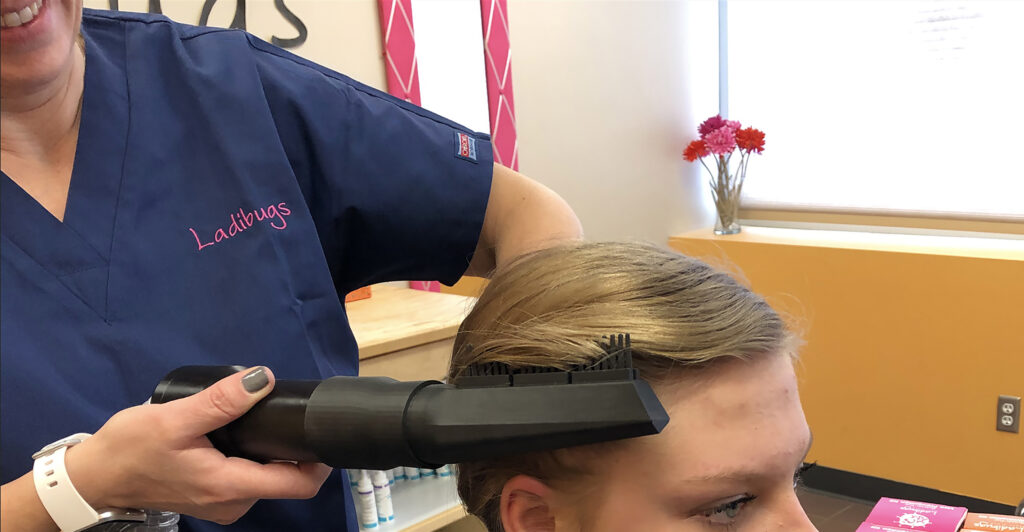 Ladibugs is a reputable, trusted head lice removal clinic catering to clients in the Twin Cities along with Eden Prairie, Edina, Maple Grove, Minnetonka, and Wayzata for many years. Children and teens are more susceptible to these irritating critters, but anyone can be affected considering how easily they spread. Whether you have a child with an infestation or several members of your family have lice, we can help.
We provide lice treatment that is effective, fast, and free of potentially harmful chemicals and pesticides. Our head lice removal salon employs highly trained technicians who are dedicated to the results you expect and deserve. Whether using our innovative Cooled-air device or natural products, you enjoy peace of mind knowing those critters are gone for good!
Children and teens are naturally more susceptible to become victims of a lice infestation because of the crowded environments they are often found in. From classrooms, cafeterias, and gyms to summer camps, youngsters often cluster in groups which gives those pesky bugs an opportunity to spread. Even when you only notice a bug or two, they multiply super fast and you soon have a serious problem. You can rely on our lice treatment clinic to eradicate every single louse and nit (egg) once and for all so your family's routine can return to normal.
Why visit our head lice treatment salon? Most parents who have been through this before and tried to resolve the problem on their own know it is messy, time consuming, and all too often doesn't deliver results. Products available on store shelves typically contain pesticides or potentially dangerous chemicals, and you may have to repeat the procedure numerous times. Why go through all that when you can be done in 30 minutes with our professional head lice treatment?
We understand your frustration and know you want your child to feel as safe and comfortable as possible. Our lice removal salon provides a relaxed, friendly environment so that you can feel good about the short process and get in, out, and on your way!
Ladibugs also offers products for home use including elimination and prevention kits, along with shampoo and conditioner. No matter which way you go, our lice removal clinic has you covered. If you are in the Twin Cities or nearby areas. we invite you to learn more by calling 612.804.8888. Say bye-bye to those bugs!
The top rated
lice treatment
in the Twin Cities
Prevent and Eliminate Lice!
Use Ladibugs lice prevention and lice elimination products and you will feel confident knowing those bugs are gone, while hair is protected from damage thanks to our natural lice treatment.
Our products have become top sellers in retailers across the country. This is a one-time process that completely eliminates head lice in a single sitting and does not require water, chemicals, or shampoo.
Simple and effective!
Ladibugs Lice Clinic serves the entire Twin Cities area of Minnesota, Edina, Minnetonka, Wayzata, Eden Prairie and Maple Grove. Contact us today to learn more about our products and services.
Please view our featured article in Star Tribune about our NEW Zyma Air Therapy™ cold air process here.
Find Ladibugs at these salons and retailers