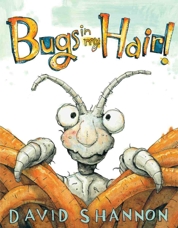 Award-winning author David Shannon shows the funny side of waging war against–oh no!–head lice in his new book, "Bugs in My Hair."
David Shannon, the author and illustrator of a new picture book for kids, Bugs in My Hair!, learned about his subject — head lice — the hard way.
Actually, it wasn't as hard for Shannon as it was for his daughter, Emma, and his wife, Heidi. They were the ones with the itchy scalps and lice.
Shannon, 53, merely wrote about it. He also imagined what the blood-sucking bugs might look like if magnified about 1,000 times or so.
"I wanted the book to be silly but filled with factoids," Shannon says from his home in Los Angeles. The book's back cover warns: "This book will make you ITCHY!"
It explains that louse eggs are called "nits" (hence, nitpicking) and that louse (singular for lice) is where the word lousy comes from.
It's narrated by David, a red-headed boy reminiscent of the boy in several of Shannon's previous works, including No, David!, a Caldecott Honor winner.
Bugs in My Hair! (Blue Sky/Scholastic, for readers 4 to 8) opens with David recalling the day "my mom made a terrible, awful discovery" in his nest of red hair: "HEAD LICE!"
He imagines happy lice dancing and singing at a "LICE-A-PALOOZA!" then moving on to "conquer the world!"
David's boy's mom eventually comes to the rescue with "battle-tested anti-lice weapons," including a nit comb and "stinky stuff that lice hate," which involves eucalyptus and peppermint oil.
That's more or less what happened in Shannon's home three years ago when his daughter was 12. She passed the lice on to her mom, but not her dad, who quips, "I was a father in denial."
The Shannons resorted to a professional nitpicker "who was kind of expensive." He jokes, "I had to write the book to help pay her fees."
He recalls being embarrassed until he learned "that getting lice doesn't mean you're dirty. You can get them just by hugging someone." He adds, "Maybe I'm not that affectionate. Just kidding."
The federal Centers for Disease Control and Prevention report that an estimated 6 million to 12 million kids across the USA get head lice each year, but it's "not related to the cleaniness of the person or his or her environment."
Head lice are spread by "direct contact with the hair of an infested person," often at schools and playgrounds.
Shannon dedicates his book to "Moms everywhere and their battle-tested anti-lice weapons."
One of them, his wife, has moved to writing her first romance novel. It does not involve lice.