Most adults are familiar with the peril our planet is in, and the more sensible ones do their best in order to help the environment through various ways. However, kids are not like this. They don't know anything about fume emissions, carbon footprints and so on. If you would like to raise a child who cares about the environment and will lead an eco-friendly life, you will have to embrace some green practices. Here are a couple of suggestions on how to teach your kid to go 'green'.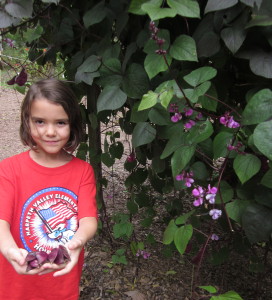 Start a garden of your own
This is a great way, through which you can take your child outdoors and help him/her learn about the nature. Teach your kid about the importance of growing your own food, organic fruit and vegetables, free from any hormones and pesticides. The size of the garden is not crucial. It can even be a small corner of your backyard, where you can plant various herbs, and veggies. However, if the space allows it, plant a tree together. This is one of the best things a parent and a child can do together, for they will have left something significant behind them and will watch the tree grow. However, if you don't have enough space for a garden, you can teach your child about organic foods by going to the local market together to do your fruit and vegetable shopping or by container gardening.
Recycle together
Teaching your kids about protecting the environment through recycling is one of the easiest options. In a certain room in your house, set bins, which are to be filled with different goods that can be recycled. This includes plastic, paper and glass ones. This way you can teach your son or daughter about what can be recycled and reused. Creating a kids' Recycle Craft Box is also a good idea. This could be any box or a bigger container in which your kid could put all the stuff that could be later reused and turned into DIY eco crafts. Things you can use for the purpose are soda cans, egg cartons and pretty much anything else your imagination tells you.
Donate old toys and clothes
This is the best way to teach what can be done to things that are not needed anymore, but could be put into good use by someone else. This will also turn your son/daughter in a generous adult. Make him/her realize that there are kids out there that are unfortunate enough to not be able to afford whatever some take for granted. This is a valuable lesson on reusing and human values. Go through your child's possessions in the beginning of each season and consider donating clothes that don't fit anymore and toys that are not used on a regular basis anymore.
Garage and yard sales
This one is a classic, and is basically one of the best ways to get rid of items you don't need anymore, be they electronics, pieces of interior, etc. Use your kid's help to set the tables on which you are to put your 'merchandise'. This is a double-win endeavor, as it will teach your child not only about the fact that "one man's junk is another man's treasure", but also how to deal with money. For example, if s/he is old enough, you can make him/her the 'cashier'. You want want to reader Yard Sale Tips For Buyer and Seller.
Turn off and unplug
Share with your kids the need for switching off all electronics that are not being used – TVs, DVD players, computers. Same goes for the lighting in the house. This not only harms the environment, but also has negative effect on your electricity bill.
Teaching your child about Eco-friendliness can be really fun, as it will definitely strengthen the parent-child bond.

Content via : Family Focus Blog
http://familyfocusblog.com/teach-your-kids-how-to-be-eco-friendly/?sf15779139=1

Guest post by Grace who can give you some useful tips on how to have fun with your family and create a better home for them. Enjoy also her suggestions for Barnes house removals and easy organizing.