Head lice at school. Has it ever happened to you? How do you deal with it?
This post is in respond to the new policies in Washington state on head lice. The article "Should kids with head lice be allowed at school?" on CBS News talks about the "more" lenient" head lice policies at school that are bugging some parents.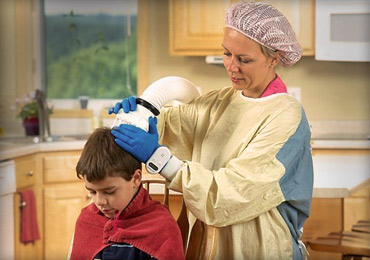 Lice are "icky", and they can cause an infectious process when children have a heavy infestation and itch profusely– causing reddened areas at the nape of the neck and behind the ears.
Lice are easily passed between 1 child to the next.  It only takes 30 seconds of head to head contact for them to be transmitted.  Sending notes home to parents is a fabulous reminder for parents to check their children for head lice.  It is just like getting a strep throat notice home, if your child complains of a sore throat, you will take them more seriously if you have received a note.  As with head lice if you just received a note and you notice your child itching you are more apt to check!
Lice is difficult to treat with the commonly used OTC medications and even prescription medications.  Studies have shown that the OTC treatments are definitely not 100% effective and there is nearly no efficacy on the nit.  This is why there is a need to retreat after 7 days (after the nits hatch and there are more live bugs!).  Thus exposing children to more harsh chemicals!!
Parents are missing work to take care of the issue and will make investments in companies such as Ladibugs, Inc. who uses a FDA cleared medical device along with their product line with an all natural approach while others are at there wits end on how to manage the overwhelming situation.
Parents NEED to know about the problem in the class room in order to check their child.  Parents need to be educated.  This is not a hygiene issue.  Children need to be educated about sharing hats, helmets etc.   Lice is only 2nd to the common cold in what children bring home from school.
It's time to stop trying to hide that issue and face it with education surrounding lice and their life cycle and ways to eliminate the issue in a all natural way to protect our children and ways to prevent.
by Rachel Knutson