As the cold temperatures set in for much of the country, the soccer fields and the baseball diamonds are abandoned until spring. And for the kids that play, it means no after-school rush to get to practice or early weekend mornings to get to a game. But that doesn't mean that kids shouldn't stay active doing something else.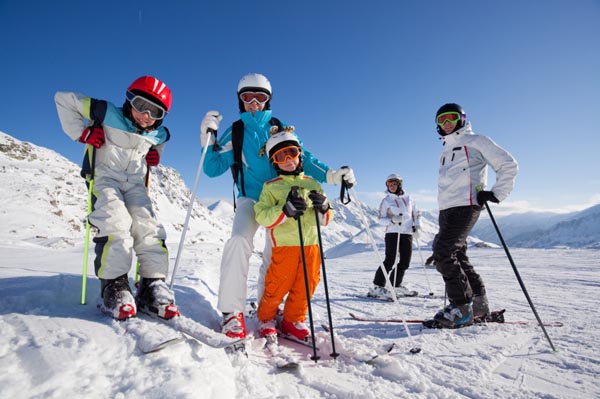 Hey, baby, it's cold outside… but that doesn't mean your family needs to hibernate! While popular outdoor sports like baseball are benched until the air warms again, there are plenty ways for kids to stay active in the winter.
Winter sports
This is kind of the obvious answer — but it's also a really good one. Really — in winter, what's more natural than cold-weather sports? Strapping on skis, lacing up skates or grabbing the sled can be just the thing to keep kids moving in wintertime.
"Taking up skiing as a family has really helped in getting my children (ages 6, 8, 10, 12, 14) excited about a winter sport, as has ice skating and sledding," says Anastasia Gavalas, MS, SDA. "Keeping children physically active just takes some creative planning and if skiing is not in the budget, then a game of tag in the backyard also works."
Karate
Don't want to head outside? That's OK! Your kids can try some awesome indoor activities like karate instead. Those crisp white uniforms are pretty fab — but that's not why karate is a good choice for winter. "Karate is always available. With children's obesity growing at an alarming rate the fitness factor of martial arts helps children through the winter time," says Ed Samane, PRO Martial Arts president grandmaster.
But there's another benefit to incorporating karate: It can teach some important lessons. "The most important benefit from children being involved with martial arts is that it teaches them about respect and discipline," says Samane.
Dance party
For a less structured winter activity, try having a dance-off in your own living room. Your kids will love it. "Throw a living-room dance party! Turn up your favorite tunes, and start dancing! Encourage the kids to pick the music — they're more likely to continue participating," says Mindy Pierce, director of programming for Sport & Health Clubs.
Indoor sports
If your kids are really into sports, there are plenty of options for winter. In addition to basketball, kids can join indoor soccer leagues (look for athletic centers in your area that might host these). Swim lessons for learning swimmers and swim teams for experienced swimmers are also a great option for staying active in the winter.
The key to staying active in the winter? Make it a priority. There really are many ways to be active — both inside and outdoors — so find what works for your kids and go for it.
Source: She knows Parenting